Lost File Recovery Module
Well, congratulations! You've come to the right place. We'll now tell you the exact solutions you need. 
Damaged Partition Recovery module is the most powerful data recovery module of iFinD Data Recovery. It is designed to recover data from logically damaged, formatted and RAW partitions. In general, lost files could be recovered by using this module as long as the partition exists. 
There're 3 kinds of partition loss situations which will lead to different phenomena.
1: Recover lost data due to accidental deletion, emptying recycle bin, and 'shift+delete' command without backups.
2: Restore files from a formatted partition, drive and card. Data recovery from raw or inaccessible hard drive caused by format error is included.
3: also supports data recovery after system crash, hard drive error or failure, virus attack, unexpected power off, etc.
Step 1
Download iFinD Data Recovery
Free download iFinD Data Recovery and then install it to your local drive or external disk that doesn't include the partition which any files waiting to be recovered. After that, you can launch the software to start recovery.
Download
Outstanding Features:
It is very easy to use, so even beginner are able to complete the files recovery in damaged partition.
The damaged partition recovery moudle scanning is very fast and files recovery success rate is very high.
Step 2
Choose lost file recovery module:
"Lost File Recovery" This feature is for file recovery on an existing partition. This partition may be destroyed or formatted, or the file may be deleted.
"Lost Partition Recovery"This function is to restore the partition after the partition is deleted or lost, and then recover the data on the partition.
"Scan Result List"This function can save your every scan result. You can choose any scan result to recover the above file, which can save you a lot of time.
After downloading and installing iFinD Data Recovery on computer, you're expected to open it at once to see the three functional modules in main interface. Now, we'll select the "lost file recovery" module.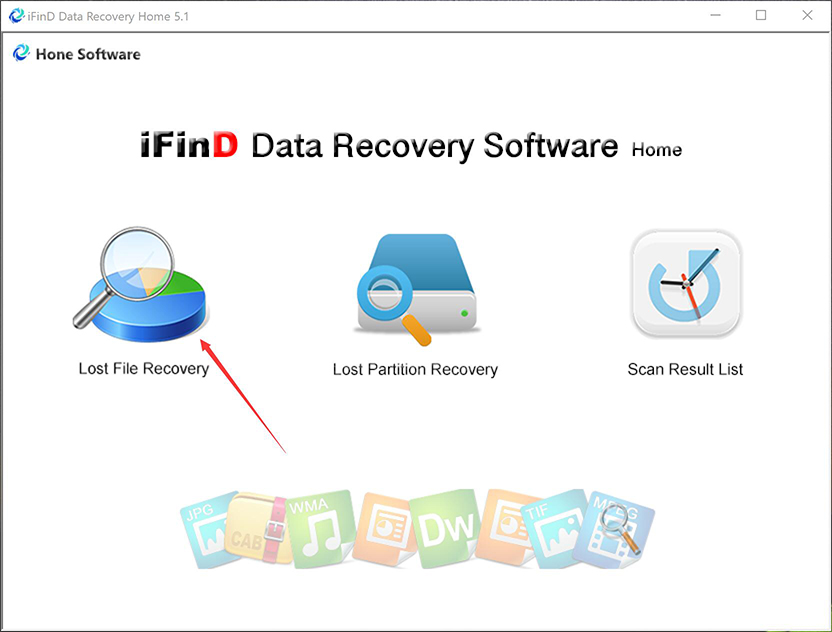 Step 3:
Select the partition to be restored:
All the partitions will be listed here. Select the partition to be restored and click ''scan". If you do not find the partition you need to recover, you can try the computer to reconnect the device and click "Refresh".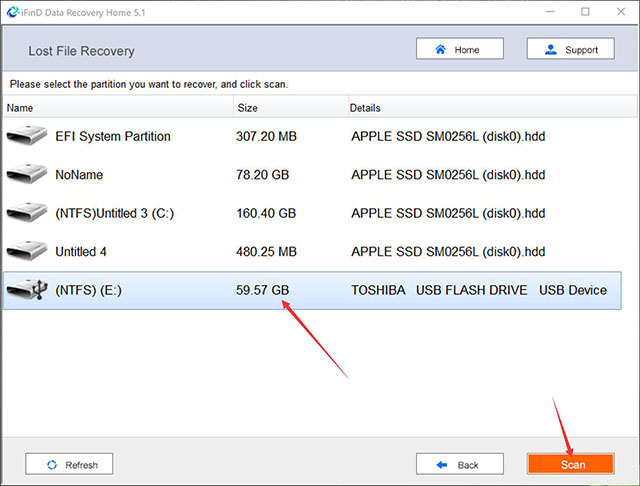 Step 4:
Scanning
Scanning: This page shows the process being scanned, and you can decide 1: stop, 2: pause, and you can see the various real-time information scanned.
1: Cancel: Click this button, the program will terminate the ongoing scanning process, and return to the device selection page of the second step, please click carefully.
2: Pause: Click this button. The program will pause the scanning process and display the found files. If you don't want to wait until the scan is over, you will know if you have found the file you need. Click this button. At any time, you can click the 'Resume' button to continue scanning.
3: This place will display the number of files found in real time. From top to bottom, all the files, pictures, media, compression, and documents are listed in order.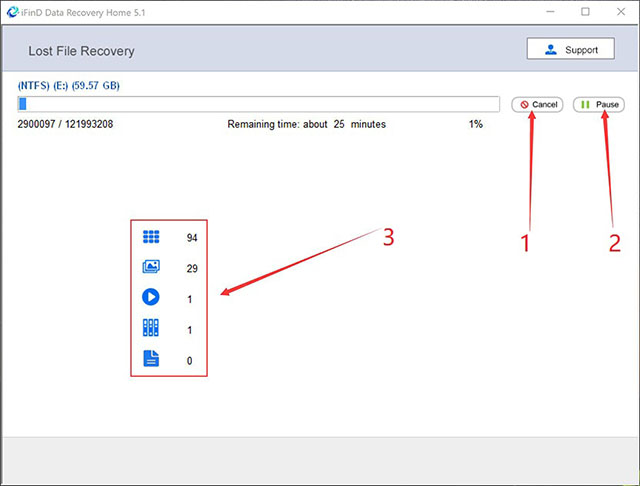 Step 5:
This place will show the found file.
1: If you do not find the file you need, click "Resume" button to continue scanning until you find the file you need.
2: If you find a file that you need to restore, click the "Recover" button, then select a local disk location, save the file you found to the local. Be careful not to save to the partition to be restored.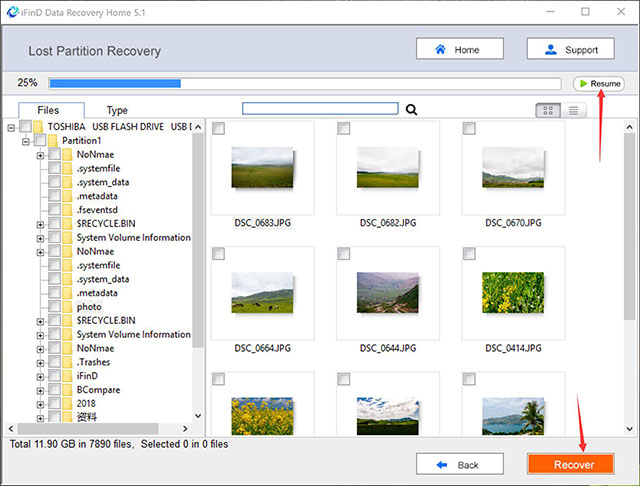 The above is what the author introduced for you - super useful Win10 system free data recovery operation tutorial. After many comparisons, I strongly recommend this free data recovery software. ifind data recovery is really a good free data recovery software that is very suitable for win10 system.